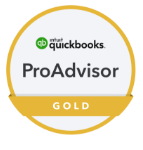 QuickBooks is the top small business accounting software on the market and is a great tool for helping you manage your money. Because it is so versatile, it is unlikely you will get the most out of it without proper training.
Here at Accountology Bookkeeping Solutions, LLC, our goal is to help individuals make the most of this versatile program. For employers, having trained users will increase the efficiency and profitability of your business.
Accountology Bookkeeping Solutions, LLC is QuickBooks Certified and provides individual training at your own pace.
Are you new to QuickBooks and want to learn?
Do you have some experience but haven't used Quickbooks in a while?
Are you looking to enhance your skills for that new job?
Have you used QuickBooks Online but want to switch to Desktop (or vice versa)?
Whatever your level of expertise is, we provide the training and support to enhance your skills. Our individual sessions are uniquely designed to help you succeed.